How to Choose a Grow Light
Discover the features and benefits of our various grow light options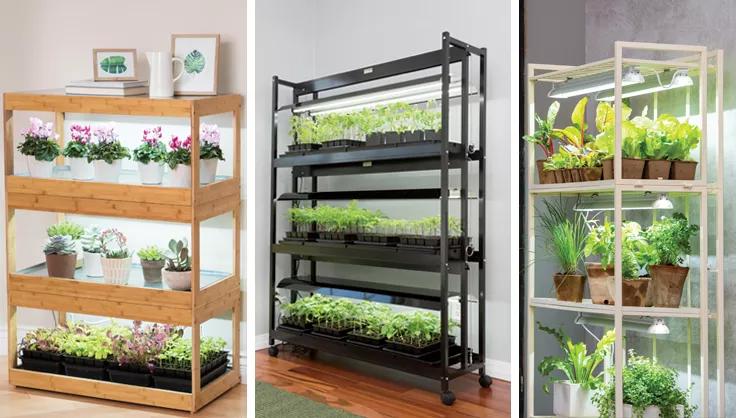 LED SunLite grow light gardens
are ideal for
seed-starting
, herbs, and houseplants.
When it comes to growing plants under lights, gardeners have SO many options. Are you a DIY-er looking for just an individual bulb? Are you looking for a standalone lamp that is both stylish and powerful? Or are you seeking an all-in-one grow light stand to maximize your indoor growing? Let's shed some light on our full suite of grow light options.
Complete grow light systems offer gardeners a whole host of benefits, such as built-in trays to catch water spills, adjustable bulbs that can be easily raised and lowered as your seedlings grow, and modular design capacity, so you can expand your indoor garden over time. Plus, most of these models are just plain attractive! No need to hide your seed-starting operation away in the basement anymore; these are made to be displayed.
For gardeners interested in a DIY approach, or dealing with space constraints, individual bulbs and fixtures are a great low-cost option, allowing you to retrofit existing fixtures, or install single grow lights where you most need them.
Ideal for single houseplants that require additional light to promote healthy growth or flowering, standalone grow lamps and fixtures provide dedicated full-spectrum light in a variety of designs, including desktop, hanging pendant, and floor models.
Shop all bulbs and standalone fixtures
Grow Light Stands: Complete LED & Fluorescent Grow Light Systems
Looking for a high intensity LED in a gorgeous design that you can display front and center in your home?
Try the: Modular Bamboo Grow Light Garden

Looking to start your entire garden from seed this year?
Try the 4-foot wide Large-Capacity SunLite

Looking to start your seedlings but have limited space?
Try the 2-foot wide Space-Saving SunLite

Looking for an afforadable, stackable system that can grow with your garden?
Try the modular Stack-n-Grow

Looking to accomodate plants of all sizes with flip up shelves and easy-to-reposition magnetic lights?
Try the Oslo Grow Light
Modular Bamboo LED Grow Light Gardens
The power of high-output LEDs
Good-looking grow lights that can bring indoor plants to flower and fruit? Absolutely!
High-output LEDs are twice as bright as standard LED grow lights; no height adjustment needed, even when growing light-hungry fruiting plants and seedlings
Optimized full-spectrum lamps are hidden behind top wooden bar so there's no distracting glare
Modular, stackable 3' wide units for a custom look
Furniture-quality construction — strong, renewable bamboo
Galvanized trays catch spills
Tall model lets you grow plants up to 45" high!
Optional rolling base makes it mobile (sold separately)
Features: Furniture-quality construction. Galvanized trays. High-output LEDs are 2x bright.
Modular Sets
Grow light gardens are available individually or in these three convenient configurations:
Bamboo Mini
The
Bamboo Mini LED Grow Light Garden
fits under kitchen cabinets, on a countertop, table or desk, and can even be stacked or hung on a wall!
Large-Capacity SunLite® Gardens
4' of Growing Space
Tabletop and rolling floor models in 3 heights.
Grow thriving seedlings, houseplants, and herbs
Dual-bulb, height-adjustable light fixtures
Choose energy-efficient LEDs or affordable fluorescents
Sturdy aluminum frames will never rust
Includes heavy-duty, watertight trays
Floor models include casters for mobility
Accommodates maximum plant heights of 14" to 30", depending on model
The 4' wide shelves of our
LED SunLite 3-Tier Garden
provide plenty of space for growing.
Full-spectrum lights. Pull-chains to adjust light height. Sturdy trays catch spills. Caster roll easily.
Space-Saving SunLite® Gardens
Same SunLite features, but just 2' wide
Compact tabletop and rolling floor models in 3 heights.
Start seeds and grow thriving herbs and houseplants anywhere!
Dual-bulb, height-adjustable 2' light fixtures
Choose energy-efficient LEDs or affordable fluorescents
Sturdy, rustproof aluminum frames with watertight plastic trays
Each floor model has casters, so you can roll where you need it — even into a closet!
With 2' wide shelves, the
LED SunLite Compact 2-Tier Garden
has room for seedlings and houseplants.
Modular Stack-n-Grow Light Gardens
The perfect starter system that grows with you!
Ease into indoor growing with 3' wide stackable units. We show you how easy it is to build your Stack-n-Grow growing station.
Energy-efficient LED and fluorescent options
Dual-bulb, height-adjustable light fixtures
Lightweight, super-sturdy plastic frames and shelves
Easy assembly and light fixture height adjustment
Available as a Garden Starter Kit, complete with seed-starting supplies
With Stack-n-Grow, you start with the lights you need now, and add more modular units as your indoor garden expands.
Start with the Stack-n-Grow
Base Unit
, left, and place one or two
Add-On Units
on top as needed.
Oslo Customizable Grow Lights
Flip-shelf, rolling grow light in two heights
High-output LED lamps need no height adjustment
Repositionable magnetic light fixtures
Shelves flip up for maximum headroom
Smooth-rolling, lockable casters
Frame sets up quickly out of the box
Folds up flat for storage
Optional matching trays catch drips and spills
Oslo 4-Tier Customizable Grow Light
Features: Magnets hold the full spectrum LED fixtures in place. Optional matching trays catch spills. Folding shelves make room for plants tall and small. Locking casters for safety and mobility.
Oslo Customizable Grow Lights:
4-Tier
and
2-Tier
. Also available,
Oslo Grow Light Trays
.
Individual Grow Light Bulbs & Fixtures
DIY, retrofit & affordable grow light options
Purchasing an individual bulb is a great low-cost option for gardeners interested in a DIY grow light system. Retrofit an existing shop light fixture with an LED grow bulb or install a simple hook and chain fixture and hang a bulb anywhere in the house. If you plan to use a fluorescent bulb, be sure to match up the size of the fixture with the correct bulb size; for grow lights, these are generally T5 or T8 (the "T" stands for "tube" while the number indicates the bulb diameter in eighths of an inch).
Standalone Grow Light Fixtures
Functional & fashionable full-spectrum grow lamps
Need a little extra light for your precious houseplants, but don't want to sacrifice style, space, or a good reading light? Whether a desktop, pendant, or floor model, a standalone fixture provides full spectrum plant-growing power in a compact and classy design. These are ideal for single (or multiple!) houseplants that require additional light to promote healthy growth or flowering.
Grow Light Accessories
Trays, timers, humidity covers & more
Once you've settled on your grow light setup, be sure to add the right indoor gardening accessories to help lighten your workload and ensure your indoor growing success. Timers help you grow more effectively by keeping your plants on a pre-determined lighting schedule. Trays keep your grow setup neat, catching soil and water spills. Humidity covers help speed up germination rates, so you can grow larger seedlings in less time.
---
Bulb Fiction: The True Value of Fluorescent and LED Grow Lights
Fluorescent bulbs are an excellent choice for brand new gardeners or gardeners looking for just a few weeks of grow light use per year (seed starting, for example). They're super affordable and have moderate lifespans (typically around 10,000 hours). Fluorescents come in an assortment of shapes from traditional "bulb-shaped" compact fluorescents (CFLs) to tubes.
For an illuminating deep-dive on grow light terminology and technical specs, check out: Grow Light Basics, Explained
LED bulbs have exploded in popularity over the last several years. They typically cost a bit more upfront, but growers may find that their longevity and energy efficiency are well worth it. LEDs can have a lifespan 3-5 times as long as traditional fluorescent bulbs, and specific "high output" LEDs deliver even BRIGHTER light for each unit of energy they consume. Below, we compare the 3 main types of grow light bulb.
Light
Fluorescent
LED
High Output LED
Best for:
Seedlings
✔
✔
✔
Herbs
✔
✔
✔
Succulents
✔
✔
✔
Leafy Houseplants
✔
✔
✔
Cactus
✔
Features:
Brightness
✔
✔
✔ ✔
Energy Efficiency
✔
✔ ✔
✔ ✔
Mercury-Free Bulbs
✔
✔
Shatter-Proof Bulbs
✔
✔
Optimized Spectrum
✔
✔
Light Height
adjustable
adjustable
none needed
Grow Light Stand Models
SunLite Gardens, Stack-n-Grow
SunLite LED Gardens, Stack-n-Grow LED
Bamboo LED Garden, Oslo Garden
Last updated: 12/04/2023
---
People who read this article often purchase
---
Get the Dirt
Stay up to date on new articles and advice. Please fill out the information below.
Related Articles
---