Best Grow Lights For Houseplants
Shed some light on your best fronds!
Keep your houseplants healthy with a full-spectrum LED grow light. The Oslo 1-Tier Grow Light is compact enough to fit anywhere and attractive enough to display everywhere!
The best thing we can do for our houseplants? Mimic their native habitat — and for many them, that means more light. Our cacti, succulents, fiddle leaf figs, monstera, and even many of our herbs, all hail from warm, bright ecosystems; they are healthiest with loads of light. You may be blessed with rooms full of huge south-facing windows (lucky you!) — but for most of us houseplant parents out there, the extra oomph from a grow light is essential for happy houseplants.
In This Article
Bright, Direct Light
Bright, Indirect Light
Medium Light
Low Light

Bird of Paradise
Burro's Tail
Cactus
Citrus
Crown of Thorns (Euphorbia milii)
Fiddle Leaf Fig (Ficus lyrata)
Geranium
Hibiscus
Lavender
Ponytail palm
Succulents
Thyme

African Violet
Aloe Vera
Alocasia
Anthurium
Christmas cactus
Ivy
Jade plant
Kalanchoe
Money tree (Pachira aquatica)
Monstera
Orchids
Pilea
Weeping Fig (Ficus benjamina)

Anthurium
Begonia
Bromeliads
Calathea
Dieffenbachia (Dumb Cane)
Dracaena
Ferns
Peperomia
Philodendron
Schefflera
Spider plant

Aglaonema (Chinese Evergreen)
Pothos
Peace lily
Snake plant
ZZ plant
Grow Light Style and Size
Ask yourself: What am I looking to grow indoors? Where in my home will I be setting up my grow light?
If you are seeking a countertop herb garden or some , you may want a tray-style stand that you can slide on to your kitchen counter.
If you need something for the sun-starved succulents in your home, consider a snazzy a lamp-style fixture that will look great in your living room or on your home office desk.
Already have a fixture you'd like to retrofit? Simply swap out your standard indoor room lighting bulb and screw in an individual full-spectrum bulb.
Bulb Type: Fluorescent vs LED
These days, grow lights and grow light systems typically use either a fluorescent or LED (light emitting diode) bulb. What is the difference? Fluorescent bulbs are super affordable and have moderate lifespans (typically around 10,000 hours). They also come in an assortment of shapes from traditional "bulb-shaped" compact fluorescents (CFLs) to tubes. Remember — due to a small amount of mercury inside, fluorescent bulbs need to be disposed of properly. Contact your county waste program to learn how.
LED bulbs have exploded in popularity over the last several years. They typically cost a bit more upfront, but growers may find that their longevity and energy efficiency are well worth it. LEDs can have a lifespan 3-5 times as long as traditional fluorescent bulbs, and specific "high output" LEDs deliver even BRIGHTER light for each unit of energy they consume — they are perfect for light-loving succulents and flowering houseplants.
Light Duration
Get yourself a timer, because no houseplant requires 24 hours of direct light. In fact, some flowering houseplants have very specific light versus dark requirements (what botanists call "photoperiod"): Short day plants (Christmas cactus, kalanchoes, and poinsettia, for example) require long stretches of uninterrupted darkness; they will only flower when they regularly receive less than 12 hours of light per day.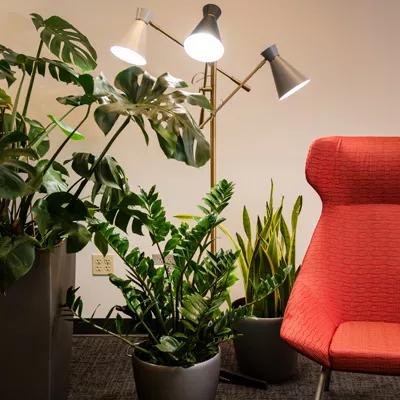 This mid-century modern floor lamp provides full-spectrum light via 3 lamp heads that can be adjusted for targeted lighting.
Best for: With an adjustable frame that measures 5-6 feet in height, this lamp can accomodate your tallest monstera and fiddle leaf figs.
Why we love it: Tuck next to a chair for a fabulous all-in-one reading light and grow light.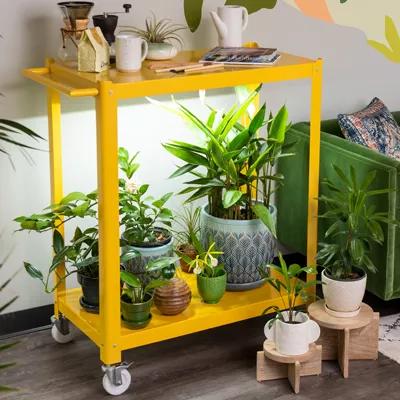 With it's sunny hue and modern metal design, this cart was made to roll away out of sight — but you won't want to. With a generous interior height (nearly 4 feet) and a high-output bulb, you can grow plenty of light-loving cacti, orchids, or amaryllis.
Perfect for: An all-in-one houseplant station; keep watering cans and potting tools on the upper shelf, and your houseplants tucked under the full-spectrum LED light bar below. OR — keep glasses and spirits on the upper shelf, and grow a mini-cocktail garden of mint, lavender, and lemon verbena under the lights.
Why we love it: It brings cheery vibes and it's MOBILE. High-grade casters let you roll your whole indoor garden out of the way when you need the space or want to rearrange your home.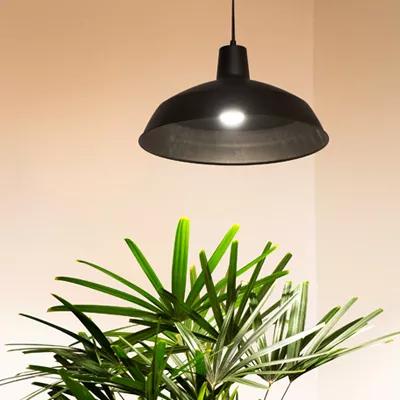 This pendant lamp looks like a standard light fixture, but it actually holds a powerful, full-spectrum LED bulb. Perfect for an unused corner or over a side table, this LED grow light casts directional light downward and plugs into any standard wall outlet.
Perfect for: Hanging over a dwarf citrus tree or ficus that doesn't fit anywhere but that dim corner.
Why we love it: In the words of one of our customers, "We were looking for a plant light that didn't necessarily look like a plant light."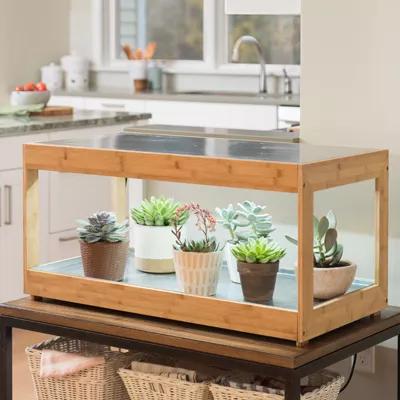 This stackable, tray-style grow light garden is equipped with 2 full-spectrum LED bulbs that are slightly recessed, eliminating glare. Set up on your kitchen countertop for an indoor herb garden, or place in your living room to showcase your gorgeous selection of kalanchoe and Christmas cactus.
Perfect for: The 2 high-output bulbs provides tons of powerful light — even enough for seedlings, succulents, and flowering houseplants.
Why we love it: The bamboo frame is attractive enough to display anywhere, and the galvanized steel tray means you won't spill water on your floor or carpet again.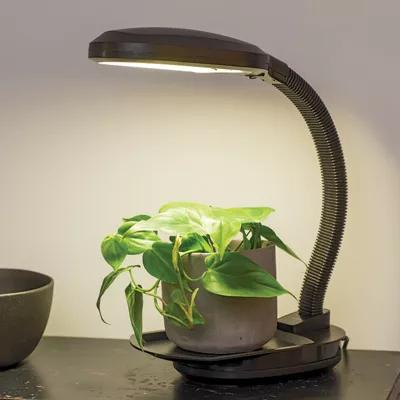 With a flexible neck and energy efficient LED bulb, this versatile grow light is perfect for just about any tabletop or home office space.
Perfect for: The 6-7 inch tray is just the right size for a potted jade, African violet, or small terrarium.
Why we love it: No space? No problem. Measuring just 14 inches tall, this light is perfect for the small-space gardener or new houseplant parent.
Not enought light doesn't spell a total death sentence for your houseplants; simply move them to a sunnier window or under a grow light, and then give them time to acclimate to their brighter surroundings. Here are a few hints that your houseplants aren't happy:
Weak, thin, "leggy" stems
No new growth, or leaves are smaller than normal
Plants may start dropping their leaves
Variegated leaves revert to a single pale color, typically pale yellow or white
The whole plant is leaning towards the window or grow light
Flowering plants fail to produce buds
Last updated: 11/15/2023
---
People who read this article often purchase
---
Get the Dirt
Stay up to date on new articles and advice. Please fill out the information below.
Related Articles
---