Best Grow Lights For Small Spaces
These grow lights save space without sacrificing style or strength!
The super compact Agie Tabletop LED Light Garden boasts 2 tiers of full-spectrum LED lights — perfect for seed starting and happy houseplants.
Short on space? Don't let a small living space force you to give up your dreams of growing gorgeous houseplants or starting next summer's garden from seed! There are plenty of petite, yet powerfully effective grow lights out there.
What to Look For In A Grow Light
Grow Light Style and Size
What are you hoping to grow? Where are you planning to set up your indoor garden? If you are seeking to start a dozen or so seedlings for this year's garden, you may want a tray-style stand that you can slide on to your kitchen counter. If you need something for the sun-starved houseplants in your apartment, consider a snazzy a lamp-style fixture that will look great in your living room or on your home office desk. Already have a fixture you'd like to retrofit? Simply screw in an individual full-spectrum bulb.
Bulb Type
These days, grow lights and grow light systems typically use either a fluorescent or LED (light emitting diode) bulb. What is the difference?
Fluorescent bulbs are an excellent choice for brand new gardeners or gardeners looking for just a few weeks of grow light use per year (seed starting, for example). They're super affordable and have moderate lifespans (typically around 10,000 hours). Fluorescents come in an assortment of shapes from traditional "bulb-shaped" compact fluorescents (CFLs) to tubes. Remember — due to a small amount of mercury inside, fluorescent bulbs need to be disposed of properly. Contact your county waste program to learn how.
LED bulbs have exploded in popularity over the last several years. They typically cost a bit more upfront, but growers may find that their longevity and energy efficiency are well worth it. LEDs can have a lifespan 3-5 times as long as traditional fluorescent bulbs, and specific "high output" LEDs deliver even BRIGHTER light for each unit of energy they consume.
For an illuminating deep-dive on grow light terminology and technical specs, check out: Grow Light Basics, Explained
Best Grow Lights For Small Spaces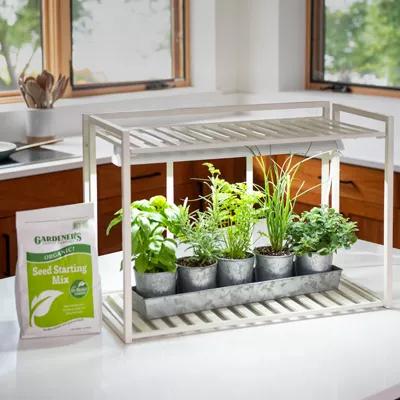 New to gardening? This grow light kit has it all! The Oslo Tabletop Grow Kit features a fold-flat grow frame, made from sleek and sturdy powder-coated steel, which perfectly fits the included set of five durable galvanized herb pots and tray — AND comes with seed starting mix.
26" W x 13" D x 18" H
Full-spectrum LED light
Includes a 6-quart bag of Organic seed starting mix (6 qts.) and 5 galvanized herb pots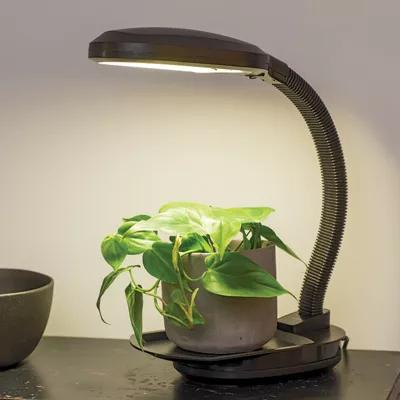 With a flexible neck and adjustable height, this versatile tabletop grow light is perfect houseplants of all shapes. The energy-efficient LED bulb delivers the full-spectrum light that's optimal for plant growth — or reading!
Plant lamp is 14" tall from tray to lamp
Full-spectrum LED light
Stable base has a tray perfectly sized for an aloe vera plant, cactus, jade, or other beloved houseplant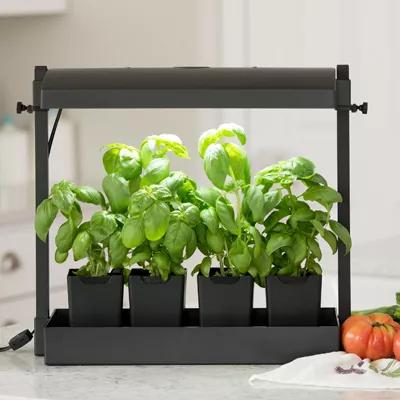 Light and water are all taken care of with this one! This complete self-watering system includes a reservoir and capillary mat that provides plants with water when they need it, keeping them healthy and reducing watering chores. It also includes four growing trays for direct seeding; you can also place your own herb pots right on the capillary mat for fuss-free watering!
21-3/4" W x 7-3/4" D x 17" H
An adjustable T5 fluorescent light bulb that can be raised as plants grow
Reservoir holds 3 quarts of water — fill it and forget it!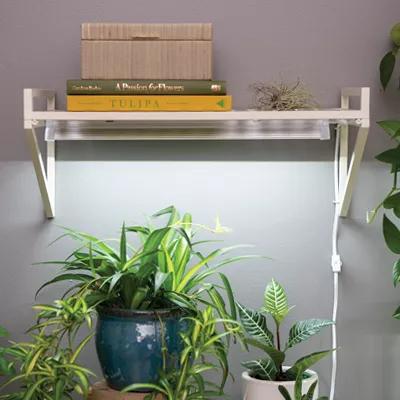 Mount this frame at the perfect height for your tallest plants and potted indoor trees. The high-output, energy-efficient LED light fixture delivers optimum, full-spectrum light plants will grow vigorously and be more likely to bloom too. So go ahead and get that potted citrus tree or giant hibiscus — you'll have room.
25.5" W x 11.5" D x 11" H
High-output, full spectrum LED light with magnets
Maximize storage space with a powder-coated steel shelf that is sturdy enough to support books, picture frames (or more plants!)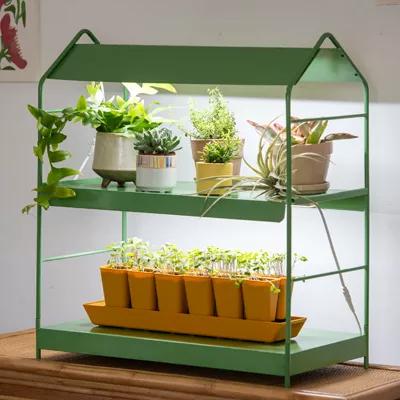 With a modern, minimalist look and a compact footprint, the Agie Tabletop is the perfect small-space solution for starting seeds and keeping houseplants happy and healthy. Made from durable, rust-proof galvanized steel with attractive and protective green powder coating, it has two shelves to maximize the amount of growing space.
23" W x 12" D x 25.5" H
Includes 2 full-spectrum LED lights with magnets
Customize your grow setup with adjustable shelves to accommodate taller plants
Last updated: 11/15/2023
---
People who read this article often purchase
---
Get the Dirt
Stay up to date on new articles and advice. Please fill out the information below.
Related Articles
---