Dried Flowers Are Fresh Again!
One Vermont grower shares her experience with dried flowers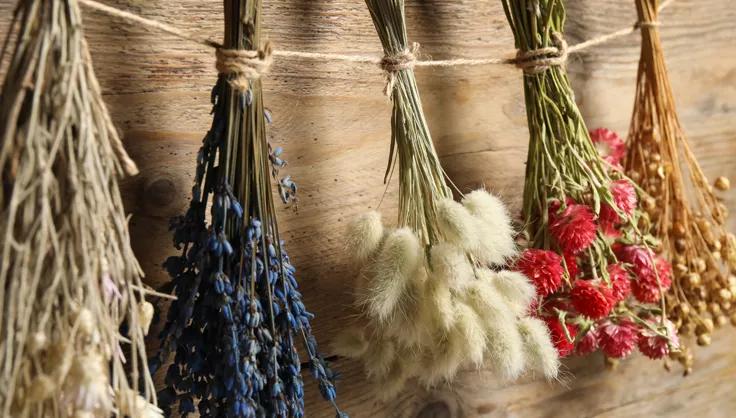 If you don't live in or haven't been to central Vermont in April, well, be prepared for sleet, snow, wind, and muddy roads sticky and deep enough to lose a Subaru wheel. However inside Jenny Monfore's peaceful studio, the vibe was warm and dry, backlit by the gentle glow of a rack of grow lights (is there anything more exciting for a gardener than seeing a flat of seedlings under a grow light?).
Jenny is the one-woman grower and creator behind Old Time Flowers, a specialty cut flower farm that offers both fresh and dried blooms via seasonal CSA shares, special event requests, and value-added products like wreaths and bouquets.
While the fresh cut flower movement has been on the rise in recent years, dried flowers have just started to make a trend resurgence. But these aren't the boring Baby's Breath bridal bunches of the 1980's — these days, envision a rainbow of colors and loads of textures. Growers and designers blend big showy flowers with grasses, unique foliage, and seed pods. Dried flowers are making their way into bouquets, boutonnieres, wreaths, and arrangements.
Some growers dabble casually in flower drying, however the decision to grow flowers for both fresh and dried production was a no brainer for Old Time Flowers. "I'm really committed to growing for drying," Jenny says. "Dried flowers offer an all-natural season extension." And for gardeners with short growing seasons, as in Zone 4 Vermont, that can be a lifesaver.
Small Spaces Can Yield Big Blooms 
Growing intensively on just a little over 1/10 of an acre, Old Time Flowers is a self-proclaimed "micro farm". Soil health is of utmost importance, and Jenny employs cover cropping and no-till methods. These practices, combined with diligent succession planting, can coax an incredible number of flowers out of such a small space. From seed starting and transplanting to watering and harvesting, Jenny does it all. By hand. "My two favorite garden tools are my Hori Hori knife and snips. I love the knife for transplanting, and I keep my snips clipped onto my pocket all season long for foraging and garden work." 
Perfect Plants for Drying 
Tried-and-true filler-types like strawflower and lavender probably come to mind when one hears "dried flowers". But don't be afraid to experiment with larger, more complex blooms! Jenny also dries dahlia and lisianthus. "I'm always looking for more focal flowers," Jenny says. "I love going through books to get new ideas."
Our favorite flowers and grasses for drying:
Ammobium
Bunny Tail grass
Celosia
Dahlia
Dusty Miller
Frosted Explosion grass
Globe Amaranth (Gomphrena spp.)
Lavender
Lisianthus
Poppy seed pods
Quaking grass
Scabiosa (both flowers and seed pods)
Statice
Stock
Strawflower
Green From Start to Finish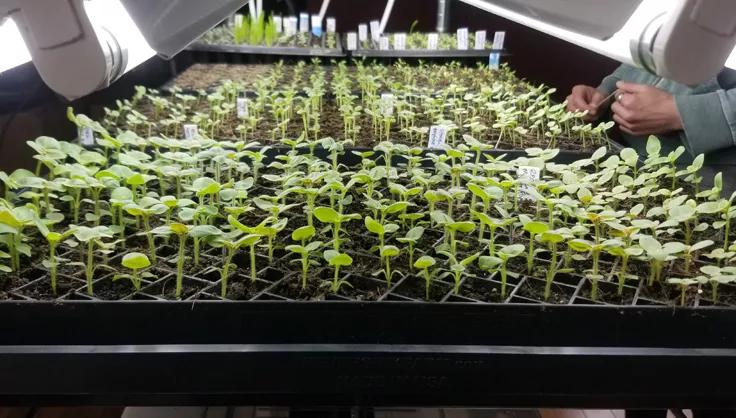 Old Time Flowers is committed to keeping its business process sustainable and circular. Plants are started from seed (no plugs shipped in from a far-off commercial grower) and seeds are saved at the end of each season. Wreath forms are made of forged willow stems, and all wreaths and bouquets are completely compostable — no added glues, plastic parts, or wires. Nevertheless, Jenny still recommends burning her dried items once they're done being enjoyed, to avoid the spread of any potentially invasive plants. 
How to Air Dry Flowers
For the most vivid colors, harvest flowers close to peak bloom. Most flowers will continue to ripen and open a little after they've been harvested. If the flower is too mature, it may drop its petals when dry.
Strip excess foliage, then bundle together with jute or other natural twine.
Hang the bundles upside down in a location that is hot, dry, and dark. This part is crucial — cool temps will slow the drying process, moisture and poor ventilation will risk mold, and exposure to UV rays will fade colors. A ventilated attic, shed, or barn generally works well.
Drying time varies with the type of flower and time of year. Summer heat may mean your flowers will be completely dry within one week; cooler fall temperatures may extend the drying period up to a month. 
Dried flowers will last one year when kept out of sunlight. To remove dust or cobwebs, shake gently by hand or use a hair dryer set on the lowest setting.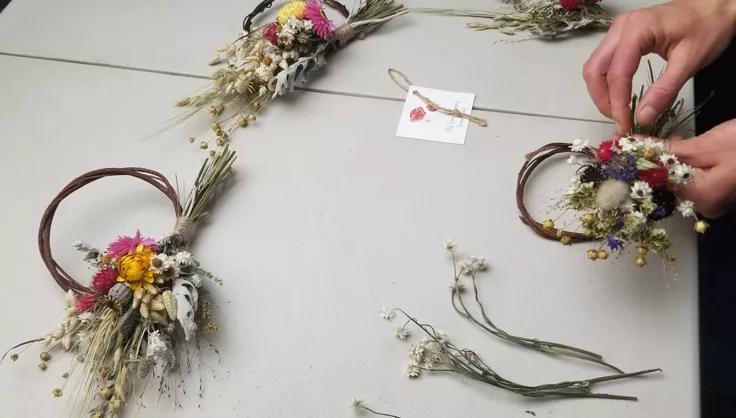 Dried flower being arranged into small wreaths at
Old Time Flowers
Dried flowers are a garden keepsake that help carry the colors of summer well into the dark grey of winter. We pickle our cucumbers and turn our basil harvest into pesto — why shouldn't we preserve our blooms too?
Last updated: 05/18/2023
Get the Dirt
Stay up to date on new articles and advice. Please fill out the information below.