How to Choose Flower Supports
Grow tall, top-heavy blooms without worrying about leaning or broken stems.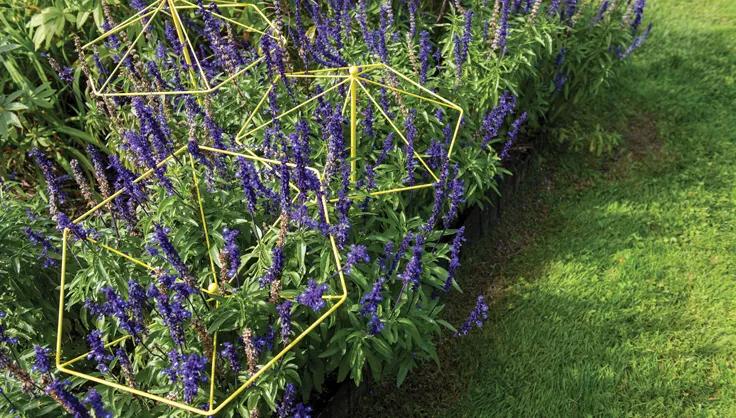 Supporting flowers with props like our
Parasol Plant Supports
prevents broken stems and keeps the garden tidy.
A beautiful border garden is the result good plant choices, careful siting and something you don't usually see: flower supports. Even the best-planned garden needs a little infrastructure. And with the right supports, anyone can add get that "master gardener" look.
Tips For Staking Your Flowers
Stems not staying in their support? Use a soft tie like FarmYarn or our Foam Twist Ties to gently hold plants against stakes or within supports. Tie plants loosely — too tight, and you will risk damaging or snapping the stem.
Growing a flowering vine like a morning glory, clematis, or wisteria? Provide more vertical AND lateral support by training your vine up a heavy-duty trellis, arch, or arbor.
Wind storm catch you by surprise? Relax! Bent flower stems can be cleanly snipped off at the next nearest leaf node. Depending on the plant, you may get regrowth. At the very least, you can enjoy your bloom in a vase.
Grow-Through Flower Supports
Preventive staking is required for the "known floppers," such as peonies. Grow-through supports keep the garden area tidy and prevent your big blooms from getting squashed by wind and heavy rain. The key is to get these supports in place before the plants grow tall enough to need them. That way, the plant grows through the support and the whole thing is integrated and nearly invisible. When to use grow-through supports: For bushy, clump-forming plants that flop once they start to bloom, like dahlias, peonies, and delphinium.
Our favorite grow-through supports:
Linking Stakes
Linking stakes are perfect for keeping plants from leaning into a pathway or controlling vigorous plants that are smothering less-vigorous neighbors. You can encircle the clump or weave a line of stakes through the center, providing extra support to the core. When to use linking stakes: These can be used just about anywhere in the garden, but are especially helpful along pathways and edges — just add or subtract individual sections to accomodate your size.
Our favorite linking stakes:
Stem Supports
Stem supports are excellent for plants that generally support themselves until they burst into bloom. They also come in handy when a plant puts out a bloom spike that is a little weak, or flops into surrounding foliage. These supports are designed to slip around an individual stem as it is about to flower. When to use stem supports: For plants that pump out top-heavy blooms on a single stem, like Asiatic lilies, foxglove, gladiolus, and bearded irises.
Our favorite stem supports:
Last updated: 07/26/2023
---
People who read this article often purchase
---
Get the Dirt
Stay up to date on new articles and advice. Please fill out the information below.
Related Articles
---